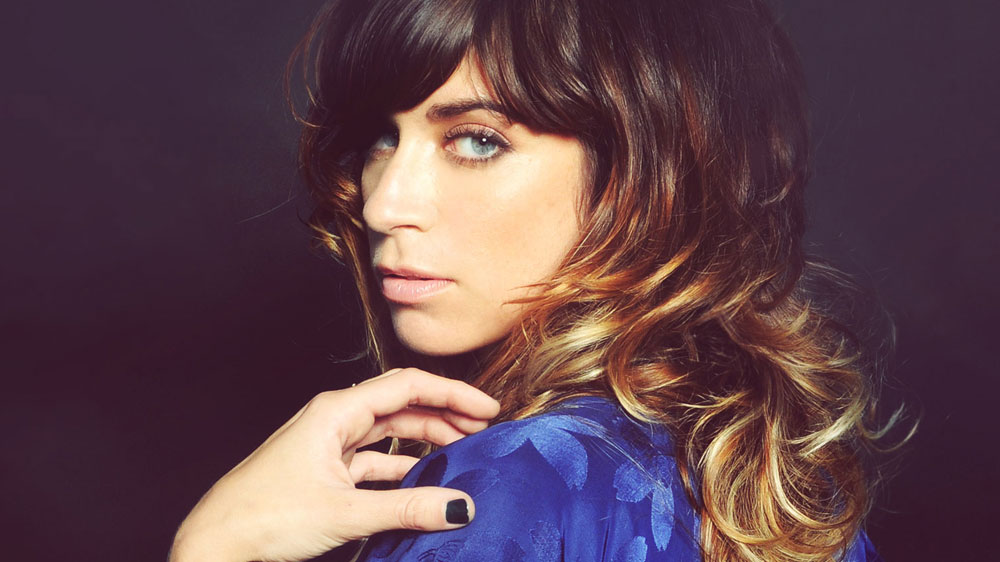 Todavía recuerdo el shock que me llevé al escuchar el debut de
Nicole Atkins
(
Neptune City
, 2007) hará cosa de dos años. Era un disco lleno de canciones para el recuerdo, todas con melodías cincuenteras y sesenteras muy nostálgicas, con mucho pop inquieto y sinfónico: uno de los mejores debuts que había escuchado en años. Y encima estaba comandado por una voz para el recuerdo, tan elegante como poderosa, capaz de embelesar en un tema y atronar en el siguiente. Desde entonces he sido muy fan de
Nicole Atkins
, así que pueden imaginarse mi reacción histérica (una indicación: implica mucha hiperventilación y gritos incoherentes) cuando encontré
la campaña en Pledgemusic
para financiar su tercer disco, el cual salió al mercado hará cosa de un mes.
Slow Phaser, que así se llama el tercer disco de Nicole Atkins, se sitúa en un punto medio entre el pop cincuentero y psicodélico de su debut y el rock más sureño y polvoriento de su segundo disco (Mondo Amore, 2011): menos sinfónico que uno, menos furioso que el otro, y aunque no agarre las entrañas a ratos tanto, más consistente que ambos. Lo cual es curioso dado que, sobre todo, Slow Phaser suena a alguien relajado, que en vez de intentar ceñirse a un sonido determinado, se deja llevar por los impulsos de su musa interior, y que va dando cambios de estilo a cada canción, siendo el disco más variado de su discografía de largo. Pongamos como ejemplo el comienzo del disco: Who Killed The Moonlight empieza con una línea de bajo dominante e insinuante, pero tiene un estribillo mucho más popero, sesentero y un poco psicodélico; It's Only Chemistry empieza recordando a su primer disco, pero su estribillo (con un banjo providencial de apoyo) con coros comunales le acerca a Mondo Amore; Girl You Look Amazing es un pepino de puro disco pop, y Cool People empieza con unas guitarras muy Snow Patrol/Amaral/U2, pero su melodía y ritmo recuerdan a alguno de los últimos temas de Norah Jones (pienso sobre todo en Happy Pills). Cuatro temas, cuatro estilos casi opuestos. La variedad no para ahí, ni mucho menos: las influencias zeppelianas en el riff de What Do You Know o en la muy folkie Sin Song, que casi cierra el disco, se contraponen con las más esperables (no por ello peores) The Worst Hangover o Above As Below, una preciosa letanía que cierra el disco de manera ensoñadora entre sonidos de algo que suena entre cítara y mandolina.
Y con todo, Slow Phaser no deja tan exhausto como dejaban sus dos discos anteriores. Eso no es una mala cualidad, ni mucho menos: Neptune City y Mondo Amore tenían que ser intensos, cada uno por sus razones (el debut tiene que dejar la impronta más inolvidable que puedas, y Mondo Amore es un disco de ruptura, así que más vale que rasque un poco las entrañas). Y en Slow Phaser, como ya he dicho al principio, Nicole Atkins no tiene nada que demostrar, y a estas alturas basta con entregar un conjunto de canciones tan bonito como diverso, y dejar que sirvan como fondo para que su privilegida voz vuele tan libre como se merece. No es el disco del año, ni puede que sea el disco con el que al final me llevaría de su discografía a una isla desierta, pero vive Dios que el mundo musical sería más agradable con más discos como este y más gente como ella. Al menos, estaría mejor cantado, eso seguro.
Mis favoritas: Girl You Look Amazing, Cool People, The Worst Hangover, Above As Below
Daniel Díaz
Web oficial
Myspace
LastFm
Twitter
Facebook