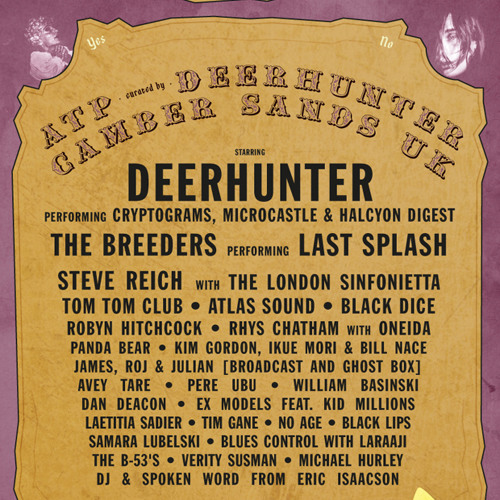 Mixtape
elaborado por
Bradford Cox
de
Deerhunter
, banda encargada de seleccionar los nombres que participarán en el
ATP
festival en Camber Sands, UK a finales de este mes. El
All Tomorrow Parties
presenta a continuación el festival, así como los nombres elegidos para dicho evento.
Se pueden bajar el Mixtape desde el Souncloud, casi 2 horas de excelente música.
ATP curated by Deerhunter Mixtape
"Music from many of the artists performing at the ATP curated by Deerhunter festival in Camber Sands, UK from June 21st-23rd.
Check out a promo video about the festival featuring footage from the last event curated by TV On The Radio at
vimeo.com/67868492
All artists on the line-up curated by Deerhunter - this mixtape personally curated by Bradford Cox."
0.00 Steve Reich - Drumming (excerpt)
2.04 Deerhunter - Desire Lines
8.43 The Breeders - Drivin' On 9
12.00 Dan Deacon - True Thrush
16.44 William Basinski - 92982.1
29.17 Black Lips - You Are Dumb
32.58 Cavern of Anti-Matter - Solar Diamond
37.07 Laetitia Sadier - Statues Can Bend
40.00 Michael Hurley - Wildegeeses
44.16 Precious Bryant - Georgia Buck (from Mississippi Records)
46.53 Blues Control w/ Larajji - Awakening Day
54.55 No Age - Miner
56.45 Panda Bear - The Phreakness
1.00.17 Rhys Chatham - Guitar Trio (Edit)
1.03.17 Pere Ubu - Heaven
1.06.22 Ex Models - Chrome Panthers
1.07.30 Samara Lubelski - The Nice Price
1.10.29 Tom Tom Club - Genius of Love (live)
1.17.26 Kim Gordon/Ikue Mori - What Do You Want (Kim)
1.21.20 Verity Susman - To Make You Afraid
1.27.48 Robyn Hitchcock - My Favorite Buildings
1.30.32 Atlas Sound - Washington School
1.33.55 Avey Tare - Abyss Song (Abby's Song)